About The Book
When gold rush fever gripped the globe in 1849, thousands of Chinese immigrants came through San Francisco on their way to seek their fortunes. They were called sojourners, for they never intended to stay. In The Poker Bride, Christopher Corbett uses a little-known legend from Idaho lore as a lens into this Chinese experience.Before 1849, the Chinese in the United States were little more than curiosities. But as word spread of the discovery of gold at Sutter's Mill in California, they soon became a regular sight in the American West.
In San Francisco, a labyrinthine Chinatown soon sprang up, a clamorous city within a city full of exotic foods and strange smells, where Chinese women were smuggled into the country, and where the laws were made by "hatchet men." At this time, Polly, a young Chinese concubine, was brought by her owner by steamboat and pack train to a remote mining camp in the highlands of Idaho. There he lost her in a poker game, having wagered his last ounce of gold dust. Polly found her way with her new owner to an isolated ranch on the banks of the Salmon River in central Idaho.
As the gold rush receded, it took with it the Chinese miners—or their bones, which were disinterred and shipped back to their homeland in accordance with Chinese custom. But it left behind Polly, who would make headlines when she emerged from the Idaho hills nearly half a century later to visit a modern city and tell her story.
Peppered with characters such as Mark Twain and the legendary newswoman Cissy Patterson, The Poker Bride vividly reconstructs a lost period of history when the first Chinese sojourners flooded into the country, and left only glimmering traces of their presence scattered across the American West.
The Book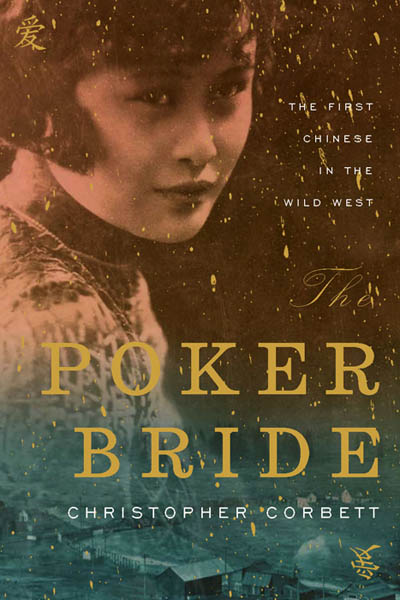 Latest News
Media
Press
"Corbett's accomplishment in pulling this dark history into a popular narrative is all the more impressive when you consider the difficulty of reporting on a foreign population that lived mainly outside the reach of census takers and journalists . . . on the whole, Corbett handles a great deal of sordid material with sensitivity. In restoring to the Poker Bride a more honest and complete history, Corbett undoes generations of self-serving mythology. And that may be Polly Bemis's real stroke of luck." -Dominique Browning, The New York Times Book Review
"Corbett peels back the romantic, racist stereotypes about 'Chinamen' and tells what life was really like for Chinese 'sojourners.'
"Seeing all this chronicled by Corbett in photos, diaries and newspaper clippings makes the whole thing seem joltingly real and recent." -Fern Shen, Baltimore Brew
"Imagine 'McCabe & Mrs. Miller,' 'The Treasure of the Sierra Madre' and 'Deadwood' hand-stitched together and given a novel slant as a mini-epic of Chinese immigrant life. That suggests the polyglot vitality of Baltimore writer Christopher Corbett's new nonfiction book, 'The Poker Bride.'
"With 'The Poker Bride,' Corbett cements his claim as an ace surveyor of America's borderland of fable." -Michael Sragow, The Baltimore Sun
"With 'The Poker Bride,' Christopher Corbett has brought home a tale delicate and sad and not a little bit heroic, and in doing so he has rescued from oblivion an extraordinary chapter of the immigrant experience in America. With this work and his earlier reconsideration of the Pony Express, "Orphans Preferred," Corbett has established himself as a fresh and thoughtful voice in the historical realm of the American West." -David Simon, "The Wire"
"In the 19th-century American West, for a white man to marry a Chinese woman was almost unheard of; to have won her in a poker game was also unusual. Yet here Corbett (who teaches journalism at UMBC) tells how the Chinese concubine Polly became the bride of Charles Bemis, a saloon keeper who took her to his remote Idaho gold-mining community. Around this story, Corbett gracefully weaves the history of the Chinese in the 19th-century American West, from the arrival of the first "celestials," as they were known, through the anti-Chinese agitation at century's end. He pays particular attention to the importation of girls from southern China and tells just how Polly's story ultimately became known to the world. VERDICT Corbett's intriguing book will appeal to readers interested in the narrative history of the American West and tales of the mining camps. Corbett provides a sound bibliography and refers to specific sources within his narrative, though serious students will prefer works with full editorial apparatus, such as Gunther Barth's Bitter Strength: A History of the Chinese in the United States, 1850–1870. Corbett's accomplished book will engage history buffs and general readers alike." Library Journal
"There is no alkali dust in these pages. The Poker Bride is a gorgeously written and brilliantly researched saga of America during the mad flush of its biggest Gold Rush. Christopher Corbett's genius is to anchor his largerstory of Chinese immigration around a poor concubine named Polly. A tremendous achievement." Douglas Brinkley, author of The Wilderness Warrior: Theodore Roosevelt and the Crusade for America
"In the Poker Bride, Christopher Corbett delves deep into the soul of the real old west, using the story of one Chinese 'sojourner'— a young woman named Polly—as the thread to link a thousand pearls off act and lore and whatever you call those fragments of story that lie somewhere in between. All I can say is, Twain would be proud." -Erik Larson, author of The Devil in the White City